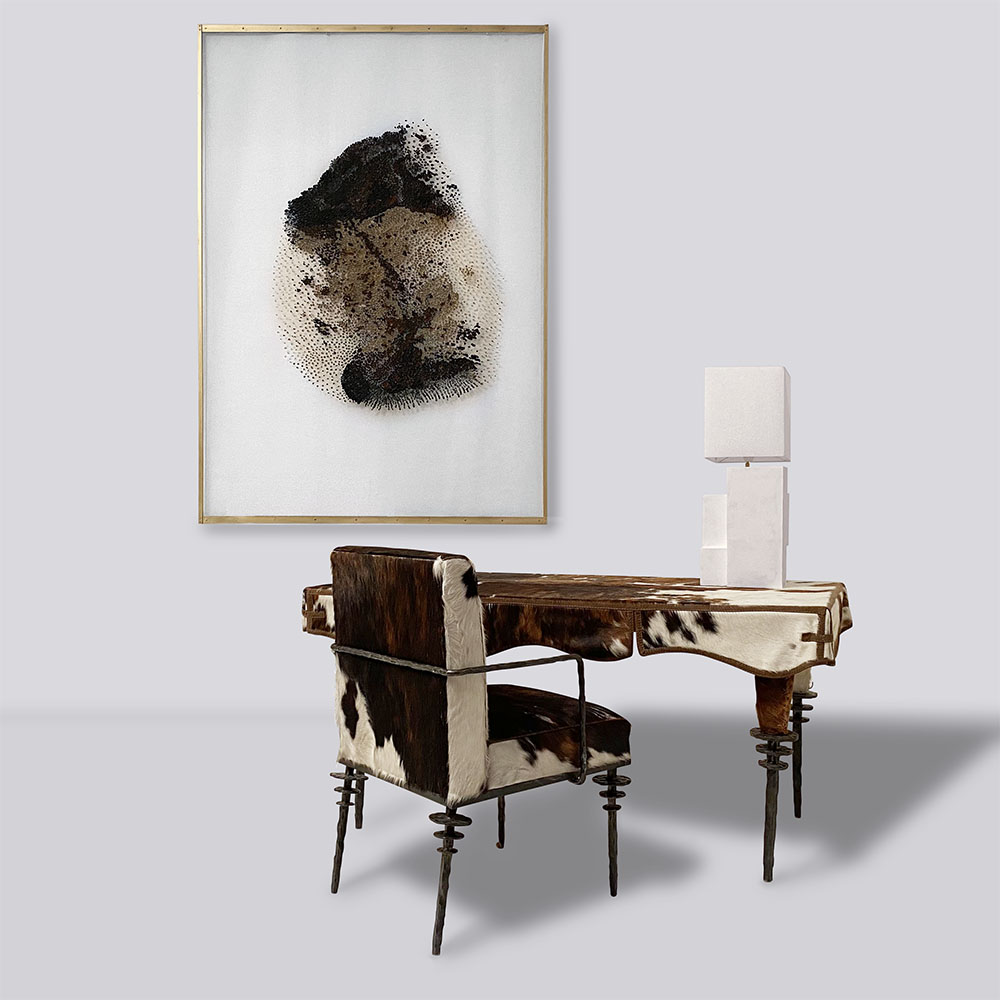 About Mouvements Modernes
Mouvements Modernes was founded in 2002 by Pierre Staudenmeyer, historical expert of design and founder of Neotu Gallery. Focused on contemporary design and decorative arts since 1980, the gallery defends numerous artists, under the current owner's leading, Sophie Mainier-Jullerot. For several years, Sophie has established her vision, expertise, network and notoriety in this field.
Nowadays, the gallery proposes a selection of iconic items from the 80's and the 90's, a wink to the gallery's history, with pieces signed by Martin Szekely, Garouste & Bonetti or Dan Friedman, that characterized these years. 
The gallery also follows what its founder had started, by selecting artists and designers who work on collectible one-off piece as well as on limited editions. Thus, young designers such as Fabien Petiot or Emma Donnersberg work on furniture items in limited editions and renew with the french tradition of decorative arts. They summon know-how and bring them through their drawings to a certain contemporaneity. Finally, the gallery represents several artists, creators of contemporary objects, who are rooted in our times and use the material as the essence of their art. Andrea Walsh, Sejin Bae, Matthew Chambers, Yoshiaki Kojiro, Alexandra Mocanu, each one illustrates an exceptional know-how in different fields: ceramics, glass, porcelain, textile... Navigating to the limits of their materials, that they explore in its whole, these artists develop their own catalog of shapes, and emphasize their avant-garde.
Mouvements Modernes organizes exhibitions and events that put the highlight on the heart of contemporary creation. The gallery presents especially some fifteen artists who are promoted in France and in foreign countries thanks to the gallery's participation to international fairs. Furthermore, the gallery develops tailormade projects, putting the artists and designers in relation with professionals such as interior designers, or private collectors.
Artists defended by the gallery : Sejin Bae, Armelle Benoît, Eric Benqué, Christian Biecher, Matthew Chambers, François Corbeau, Daniela Busarello, Nadège Desgenétez, Rena Dumas, Olivier Gagnère, Elizabeth Garouste, Constance Guisset, Noriko Hashida, Yoshiaki Kojiro, Martin & Dowling, François Mascarello, Paul Mathieu, Tim Leclabart, Jeremy Maxwell Wintrebert, Kanjiro Moriyama, Torsten Neeland, Turi Heisselberg Pedersen, Fabien Petiot, Thomas Lemut, Andrea Walsh.
Artists presented by the gallery : Andrea Branzi, Pucci de Rossi, Sara Flynn, Dan Friedman, Sachi Fujikake, Garouste & Bonetti, Eva Hild, Masaru Nakada, Harumi Nakashima, Pablo Reinoso, Borek Sipek, Martin Szekely, Naoki Takeyama.
Sophie Mainier-Jullerot
+33 (0)6 63 00 83 38
smj [at] mouvementsmodernes.com
Uniquement sur rendez-vous
t+33 (0)1 45 08 08 82
f+33 (0)1 45 08 01 02
info [at] mouvementsmodernes.com
Facebook
Instagram
Sophie Mainier-Jullerot
+33 (0)6 63 00 83 38
smj [at] mouvementsmodernes.com
Uniquement sur rendez-vous
t+33 (0)1 45 08 08 82
f+33 (0)1 45 08 01 02
info [at] mouvementsmodernes.com
Facebook
Instagram